UCI Women Cast Ahead to the Absa Cape Epic
2019-03-14
The UCI women's field for the 2019 Absa Cape Epic boasts seven Olympic medals form three riders, all of whom graced the stage at the Tsogo Sun SunSquare City Bowl hotel for the pre-race press conference. 
The reigning Olympic and World Champion from the road, Anna van der Breggen got the proceedings started by reflecting on how she came to partner four-time Absa Cape Epic winner Annika Langvad. Initially the Dutch star joked about being hesitant to agree to racing with Langvad. "It didn't take that much persuading" she eventually smiled. "It is an adventure for me to race a mountain bike and it is an adventure for Annika [Langvad] to race on the road. So while they are different experiences it is nice to have these adventures with her" the Olympic time trail bronze medallist said. 
"I have the feeling that Annika [Langvad] has prepared me really well for this. It is an honour to be asked by Annika to race the Absa Cape Epic with her and I'm happy I said yes, eventually" Van Der Breggen continued. When asked if she has been watching the Land Rover Technical Terrain videos in preparation for the Absa Cape Epic Van Der Breggen confided: "I'm watching everything! How to videos: how to fix flat tyres, how to do wheelies, everything. The wheelies are taking a little while though."
Like Langvad her former Absa Cape Epic partner Ariane Luthi also needed a new teammate for the 2019 race. "When Team Spur came to an end I needed a new team and when I saw Jolanda Neff leaving Kross I took a leap of faith and asked Maja [Włoszczowska] to ride the Absa Cape Epic with me. It was easier to get Maja to race the Epic but becoming part of the team was a bit harder." Włoszczowska added "I'm glad we managed to make it work for Ariane [Lüthi] to join Kross. It makes racing a stage race a lot easier with both of us on the same bikes and using the same equipment." 
"I was down to race the Epic with Jolanda [Neff] last year but I'm glad now we didn't start, because of Jolanda's injury, because I wasn't ready yet. But now I feel I am; especially with Ariane [Lüthi] riding with me. Her knowledge has really helped me prepare for the Absa Cape Epic" the two-time Olympic silver medallist said. "We have been talking a lot about the strategy and how to make the pace. Ariane is very strong on the flats and she will take the lead there. I am lighter and will lead on the climbs. And then she knows the trails very well so she will have to lead there too" the Polish rider elaborated. 
Sabine Spitz's road to the 2019 Absa Cape Epic has been filled with false starts. The three-time Olympic medallist – who boasts a full house of medals – was initially slated to start alongside Githa Michiels. "It took quite a while to team up, it was a mission" Spitz confessed about organising her partnership with Nadine Rieder. It is something that people don't see or don't know. If you are just one woman in a team, sorting out the different bikes and sponsors is really difficult. I got the final confirmation from Nadine [Rieder] just weeks ago."
Despite their last minute formation Spitz is optimistic for the race: "Anything can happen in eight days of racing. It is so difficult to make predictions; sometimes it is not the strongest team on paper that wins in the end." Offering advice to her rivals she said: "You ride together and not kill your partner. The Absa Cape Epic has 100 kilometre stages. When I rode with Yana Belomoyna in 2016 she started the first stage like it was a cross country race and I had to say 'no, no, no, you will kill me.' You have to conserve your energy or you will kill each other."
Her partner Rieder, though a newcomer to the Absa Cape Epic has raced in South Africa before. "It's always been my big, big, dream to race the Absa Cape Epic so I had to say yes" she recounted. "I have done the Cape Pioneer Trek before and I loved it so I had to take the chance to come back and race here. It is a big honour racing with Sabine and with the support of Team Meerendal" Rieder concluded. 
 
Looking ahead to the race, which starts with the 21 kilometre long Prologue on the slopes of Table Mountain on Sunday all eyes will be on Langvad and Van Der Breggen. The UCI women's team begin rolling off the start ramp at the University of Cape Town at 10:40am. The Investec-songo-Specialized team will be the last of the group to start, as befits Langvad's status as defending champion. The Dane is eager to get racing but knows one error between now and the 24th of March can put pay to her hopes of joining Christoph Sauser and Karl Platt on five Absa Cape Epic wins. "It is a long race and anything can happen out there. But it is important to stay switched on all the time" she advised.
Latest News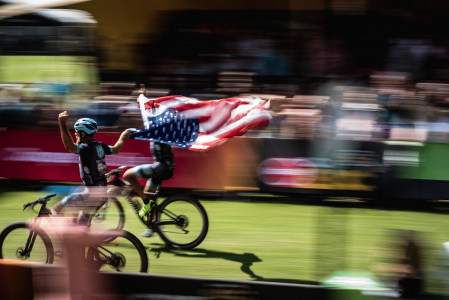 2021 Absa Cape Epic Entries...
2020-05-20
The 55 team entries for the 2021 Absa Cape Epic, which were made available to the public on Tuesday afternoon at 15h00, sold out instantaneously.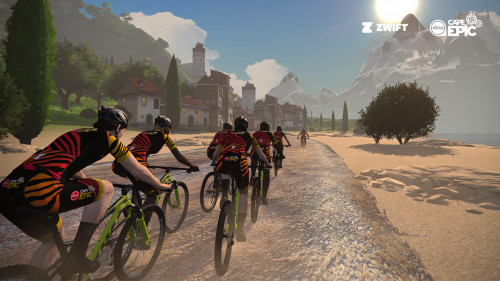 Barney's Army Complete...
2020-04-28
Barney's Army raises R250 000 for communities in Ceres
Absa Cape Epic Helps...
2020-04-02
Ahead of the South African COVID-19 lockdown, the Absa Cape Epic donated 5.5 tonnes of food to needy communities