Cutting it Fine
2019-03-21
One of the Absa Cape Epic's necessary evils: the chief commissaire stands on the finish line, starter's pistol raised in the air. Except, he is starting nothing; he is shooting down the dreams of the next riders to appear around the final bend. 
1995 World Cup Springbok prop Marius Hurter is no stranger to this zone, and is an acknowledged expert in timing his finish to perfection. He is aiming to complete his eighth in 10 starts, an impressive record for a man who weighs almost twice as much as some of the pros. His partner this year is former Proteas netball star Adele Niemand, who is riding her second. How well did they test Hurter's pacing strategy on Stage 1? With the cut-off at 18h10, he rolled over the finish line, all 115kg, hanging on to the pocket of Niemand (who weighs just 75kg) after blowing a free-hub body 15km from the finish, at 17h57 – after a trifling 9h 57 minutes in the saddle. "At first I didn't believe him." For once, the big man wasn't joking, and what followed was comical, but never desperate. "Marius is so calm. He never panicked, he got onto my bike, and pushed me on his, and then we would swap bikes and he would hold onto my pocket". Team-work 101. Only two teams finished after them, and only one avoided the cut. Stage 4 proved no different – the last complete team to finish, stress-free with plenty of time in hand.
So far, mild weather has made the 2109 edition a kinder affair than in past years; the majority of casualties have been through crashes and illness, rather than environmental issues… the heat is only due to hit the Western Cape on the final two stages. But that hasn't diminished the drama, most grippingly played out late on Stage 3. 
The first Jordanian riders to attempt the Epic, Shukri el Husseini and Majed Dirsiyeh, were comfortably placed when a regulation rear-wheel puncture 18km from the South Hill aid station exploded into disaster. Plugging attempts failed, leaving the pair with no option but to put a tube in, and persevere on the rocky terrain. That didn't last long, and their second tube turned out to be for a 26" wheel… which eventually stretched into place, before also succumbing to the panic of having one of the Hyenas – the bicycle sweeps who cajole and support the back teams, but are not allowed to offer any material assistance – hovering to remind the pair they were now stone last in the Untamed African MTB Race. 
"We probably pushed too hard. Richard was so supportive and kept telling us it would be ok, but you know, we have come a very long way to do this, and so many people back in the UAE and Jordan have helped us and supported us," says Majed. "I even crashed into a tree. We couldn't risk going home early." And so, they defaulted to every virgin Absa Cape Epic rider's plan when it starts going wrong; complete panic. "I hit a rock again about three kilometres from the tech zone. I wasn't listening to Richard (McMartin, one of the two Hyenas – Rob Vogel was herding other teams). He kept telling us we were fine for time, but you do crazy things. He is a wonderful human being. He believed in us, so that we could." 
After running with the bike for a while, the decision was made to ride on the flat tyre. "It wasn't such a risk, because we would have missed the cut-off running, so I just had to… I was so scared the wheel would be damaged!" Made it, they did, by less than a minute. "The mechanics there were amazing. Like a Formula 1 pit-stop – the sorted me out before I could even finish finding food and water". From there, it was a moderately more comfortable helter-skelter ride to Oak Valley, and safety.
Speaking 24 hours later, having crushed the 'short' 43km Stage 4 time-trial, Shukri teared up a little: we had so many messages from back home, people crying with joy and relief for us. We thought the Absa Cape Epic was a big thing, but yesterday reminded me how much time and money we have put into being here. I think it was the most important thing I have done in my life."
Not once did the pair think of sending Shukri forward to make sure he made the cut off. 
"I remember telling Shukri, or maybe I just thought it, while we were running and pushing and fearing the worst, the if we fall, we must fall fighting." Majed still looks a little shell-shocked at the enormity of what almost happened on the dusty trail to Oak Valley.
Latest News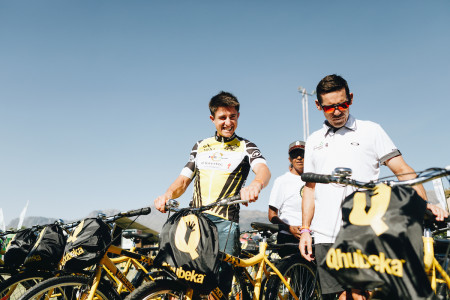 Race for Good
2020-06-09
Limited number of 2021 Absa Cape Epic charity entries available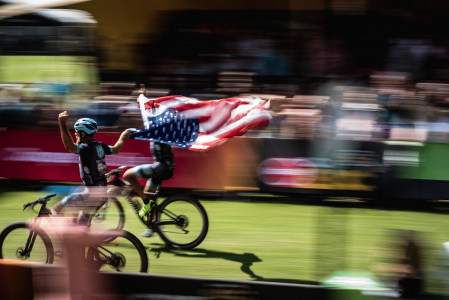 2021 Absa Cape Epic Entries...
2020-05-20
The 55 team entries for the 2021 Absa Cape Epic, which were made available to the public on Tuesday afternoon at 15h00, sold out instantaneously.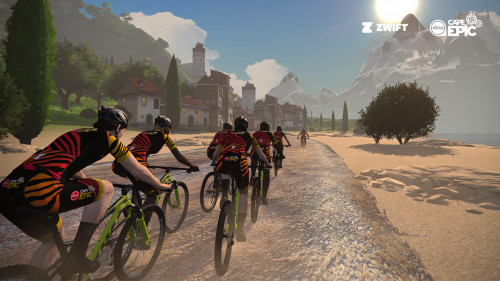 Barney's Army Complete...
2020-04-28
Barney's Army raises R250 000 for communities in Ceres