Absa Cape Epic Form Guide: Who is Coming in Hot
2020-03-10
The South African season kicked off with the Attakwas Extreme in mid-January. Matt Beers blew the race apart in the final 30 kilometres of the 121-kilometre-long ultra-marathon. Famed for its rough terrain in the first half and the brutal rolling roads of the second, the Attakwas has for 14 years been the first pre-Absa Cape Epic test of the year. Both elite and amateur riders alike judge how well they summered by their Attakwas performance.
Beers' was flawless. As was women's race winner Jennie Stenerhag and the runner up in a sprint, Robyn de Groot. Behind them Matthys Beukes had reason to be up-beat as he recovered from back-issues in the Attakwaskloof to storm through the field to second. Wessel Botha, who will be riding with Christoph Sauser, meanwhile showed that the old war horse might be in for a tough Absa Cape Epic. The NAD Pro MTB youngster was, arguably, the most impressive rider on the day, behind Beers. He may have faded to third but he once again showcased his class and ever-growing power.
Further back, Beukes' PYGA Euro Steel partner Philip Buys faded in the final hour, but subsequent results point to him and Beukes being the team to watch for the Absa African Men's Jerseys. Arno du Toit and Gert Heyns were both strong, particularly Heyns. Though Du Toit struggled with punctures, which may be as a result of racing on new equipment the first time. Nicol Carstens suffered a puncture which put him out of contention while in the mix for a podium place, while Marco Joubert endured a race-ending mechanical.
In the women's race, behind Stenerhag and De Groot, Barbara Benkó rode to a lonely third. The Hungarian spent much of her time racing alone, after missing the key move which saw Stenerhag and De Groot slip off the front after 40 kilometres of racing. Subsequently, the Ghost Factory Racing rider has been joined in South Africa by her teammate Anne Terpstra. Benkó pulled out of the Tankwa Trek with illness and then missed out on contesting for the R100 000 winner-takes-all prize purse at the Knysna Bull, with what can only be described as an error in judgement. Having not warmed up for Stage 1, after arriving late, she was caught cold by the first climb and never regained contact with the leading women's group. She did, however, recover to finish second overall, but it appears that Terpstra will be the squad's strongest rider at the Absa Cape Epic. The Dutch rider's skills on singletrack descents are a thing to behold and that weapon could be well used to put their rivals under pressure in March.
A final note from the Attakwas Extreme was the performances of Laura and Sebastian Stark. The German duo, who live in South Africa, are taking on the Virgin Active Mixed category once again and both look to be in ominous form. As defending champions, they have race-winning know-how to match their ultra-endurance pedigree too.
At the Tankwa Trek, a 4-day UCI S1 category stage race, in early February a number of internationals joined the fray. The Bulls Heroes, Urs Huber and Simon Stiebjahn, rode away as victors after Manuel Fumic suffered a mechanical which put Cannondale Factory Racing out of contention just 15 kilometres into the event. Huber and Stiebjahn were pushed all the way by CST PostNL Bafang, who will unfortunately not be taking part in the Absa Cape Epic this year. The Heroes were aided by the Bulls Youngsters; with Martin Frey and Simon Schneller proving pivotal on Stages 3 and 4. If the Bulls Legends can join the stampede in March then Huber and Stiebjahn could be considered podium contenders and potential dark horses for the overall title.
Cannondale Factory Racing, meanwhile, pressed on despite losing nearly 45 minutes on the opening stage. Fumic reported to be in better condition than he was at the same point of 2019. Henrique Avancini was hands down the strongest rider in the Tankwa Trek field, though. The Brazilian is clearly motivated for his rematch with Nino Schurter and SCOTT-SRAM MTB-Racing.
The top South African team in the Tankwa Trek was PYGA Euro Steel. Buys is at his best in stages between 3 and 4 hours long. Beukes had changed his set-up in the off-season, when supplied with the new PYGA prototype bike he and his teammates will be racing this year. Those set-up changes have reportedly been causing him back issues, but having persevered through the teething stages Beukes is now apparently starting to feel comfortable during intense efforts again. Not a moment too soon.
The battle was fierce, in the Tankwa Trek women's race. Mariske Strauss and Candice Lill, of Faces CST, established an early lead. Which was swallowed up by Stenerhag and Nadine Rieder, of Fairtree, on Stage 2. Punctures and avoidable errors cost Rieder and put the Fairtree team on the back foot, allowing Faces CST back into contention heading into the final stage. On the last day, Strauss and Lill were in imperious form, riding to a dominant stage win and taking the 2020 title. In the process, securing valuable UCI points, which could help them both qualify for the Tokyo Olympics in July.
Rieder was, arguably, the strongest woman in the race. Though her enthusiasm to display that at all times will have to be curbed by Stenerhag's experience and know-how at the Absa Cape Epic. 8 days is a long time; and if the Fairtree team punctures as frequently over 8 days as they did over 4, they will be out of contention for a podium place through no fault of their form.
The dormakaba blue team also showed promise. De Groot and Morath could yet form a formidable partnership, especially as Morath has spent time in South Africa to become heat-acclimatised. Come the 15th of March expect them to be firing. Or rather expect them to be firing on the first marathon stage.
In late February, the Imbuko Big Five Challenge and the Knysna Bull shared a race weekend. In Wellington, on a route that echoes Stage 5 of the 2020 Absa Cape Epic, the Imbuko Big Five Challenge saw many of South Africa's best riders go head-to-head. Buys rode away with the men's victory, defeating Heyns, Beukes, Carstens and Pieter du Toit in the process. On a less positive note, Joubert missed his title sponsor's race with a mechanical issue. His team manager, Max Sullivan reports that all has gone well in the Imbuko Giant team training though; stating that Carstens and Joubert should get stronger as the Absa Cape Epic progresses.
DSV Pro Cycling's Du Toit crashed out of the race, in an accident which looked Absa Cape Epic threatening. The news from the Lange Sports camp regarding Du Toit is good, fortunately.
The Imbuko Big Five Challenge women's race was won by Lill, over Stenerhag, CST PostNL Bafang's Anne Tauber, Ariane Lüthi and Theresa Ralph. The Faces rider's title defence of the one-day race showed that she will be tough to beat when the trails get steep. One has to ask, however, if that will be enough to hold off the women's race favourites, Annika Langvad and Jenny Rissveds.
Before looking into that, though, the Knysna Bull results deserve a mention. NAD Pro MTB's Beers dominated the event, winning all 4 stages. His Absa Cape Epic hopes now hinge on his partner Nico Bell's form. Bell has had a quiet start to the season and Beers stated that their tactic in pursuit of the Absa African Men's jerseys would be to race consistently. Over the 8 stages of the event, if the NAD Pro MTB team are able to notch up consistent top 10 stage finishes, they are sure they will be in contention for the red jerseys.
On a final note from the Knysna Bull, Terpstra's solo victory showcased her form. Though the Ghost Factory Racing rider was quick to point out that De Groot was probably on a better level. The dormakaba rider lost time when the route became technical and even suffered a crash, which relegated her from second to third on the final day
Back to the women's race favourites, Langvad and Rissveds. Langvad started her season with an 8th place in the Banyoles Super Cup on Sunday, 23 February. While Rissveds is yet to race. Not racing before the Absa Cape Epic is a tactic employed to great effect by Nino Schurter, who has yet to pin a number to his jersey. "Racing is risky and SCOTT-SRAM MTB-Racing has a lot riding on Nino this year" NAD Pro MTB's Beers mused after the Knysna Bull. "I can see why he doesn't race before the Absa Cape Epic. Look at Arno [du Toit]'s crash. He could have ended up having to take two weeks off the bike if he had a concussion."
Schurter's SCOTT-SRAM MTB-Racing teammate, and the other half of the defending champions' line-up, Lars Forster has been near equally cautious. The Swiss rider hasn't raced since winning the national cyclocross championships on the 13th of January. Time will tell if that approach is the correct one. A blend of race sharpness and freshness will be required to conquer The Untamed African MTB Race. To see who got their build-up spot-on, tune in at www.cape-epic.com from the 15th to the 22nd of March. Every stage of the 2020 Absa Cape Epic will be live broadcast, in high definition, from the African hinterland. So, do not miss a pedal stroke of the action.
Latest News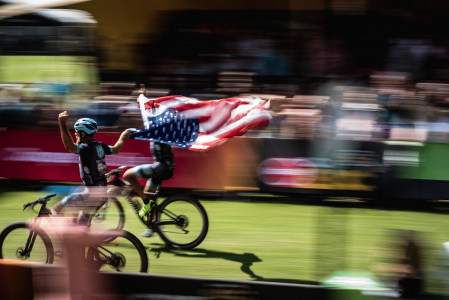 2021 Absa Cape Epic Entries...
2020-05-20
The 55 team entries for the 2021 Absa Cape Epic, which were made available to the public on Tuesday afternoon at 15h00, sold out instantaneously.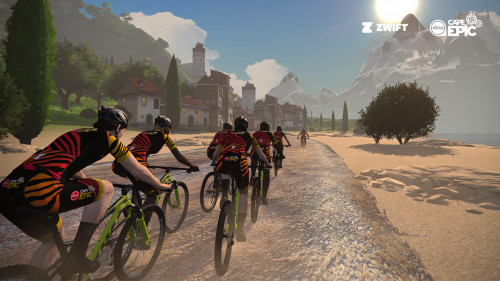 Barney's Army Complete...
2020-04-28
Barney's Army raises R250 000 for communities in Ceres
Absa Cape Epic Helps...
2020-04-02
Ahead of the South African COVID-19 lockdown, the Absa Cape Epic donated 5.5 tonnes of food to needy communities