Tackling The Untamed African MTB Race Online
2020-04-02
When Zwift launched its online off-road offering, mountain bikers around the globe rejoiced. While there is no substitute for training where you race, training on Zwift is one of the most efficient ways to prepare for riding and racing in the dirt and on the gravel. Without traffic, stop signs, or obstacles to clear, you can focus purely on building fitness.
In the build-up to the 2020 event, Zwift had already created and released a workout series curated by five-time Absa Cape Epic champion, Annika Langvad. The workouts had been tailored for mountain bikers who were preparing for the 2020 Absa Cape Epic and thanks to Langvad's experience and expertise, all riders were presented with the opportunity to level up their training through 12 workouts that took place over the course of six weeks.
In a tragic first, in the event's 16 edition history, on 13 March the 2020 Absa Cape Epic was cancelled; due to the global COVID-19 pandemic. While many saw the decision as an abrupt end to a long road of financial and physical preparation, Zwift saw an opportunity and developed new roads for registered Absa Cape Epic riders to race on. Providing them with an opportunity to utilise the form they'd fine-tuned ahead of what was sure to be one of the most demanding, yet exciting, Absa Cape Epics to date.
On 15 March, the day that 1 350 riders would have tackled the trails of Table Mountain National Park during the Prologue of the 17th Absa Cape Epic, the Absa Cape Epic Zwift Race Week began with a 17.3km Prologue of its own. Zwift's Absa Cape Epic Race Week featured two days of time trials on the Tempus Fugit course. Then Zwifters raced the Jungle Circuit, on 17 and 19 March, a flat and fast course that totalled 21.4 kilometres in length with just 165 metres of climbing. On 18 and 20 March they were challenged by the Road to Sky, which gains 1 045 meters in elevation, in just 17.3 kilometres. The final route, which was raced on 21 and 22 March was Dust in the Wind. Measuring 47.3 kilometre in length, with an additional 5 kilometre led-in it was a true test of Absa Cape Epic form; especially for those who raced it at full speed, attempting to match the professional riders taking part.
At the end of the Race Week, the title was claimed by José Joaquín Rojas Gil, of Team Movistar, with Nino Schurter hot on his heels in second. Claiming third position was Trek Segafredo's Gianluca Brambilla, while fourth place went to SCOTT-SRAM MTB-Racing Lars Forster. Jose Hermida, the 2019 Absa Cape Epic Dimension Data Master's category winner also finished towards the sharp end of the virtual field.
"The cancellation of the Cape Epic was devastating for everyone, but having the chance to ride a version of the Cape Epic on Zwift helped to digest the situation well. To me, the social part of riding with others on Zwift is great. It's good for the soul and shows solidarity that we are all in this situation together. I have found Zwift to be very beneficial to my training, as it has allowed me to train through varying conditions and I believe it is an incredibly valuable platform for riders of all levels" said Nino Schurter in relation to Zwift's Absa Cape Epic Race Week.
Every Zwifter who completed the Absa Cape Epic Zwift Race Week unlocked a zebra-inspired Absa Cape Epic kit. Riders took part on a virtual Scott Spark but could also stand the chance to win the bike in reality too. In addition to the Race Week, Zwift introduced their first off-road mission in March 2020. By climbing a total of 2 850 metres, in either one epic ride or across multiple sessions, aboard the virtual Scott Spark riders would unlock an Absa Cape Epic inspired paint scheme for their virtual mountain bike. For riders taking part in Zwift's Absa Cape Epic Race Week, this achievement was unlocked by Stage 6. Everyone who completed the mission was automatically entered into the draw to win a custom-painted Scott Spark RC, featuring the same Absa Cape Epic inspired paint scheme as unlocked in the mission and this prize will be given away in the real world in the near future.
Latest News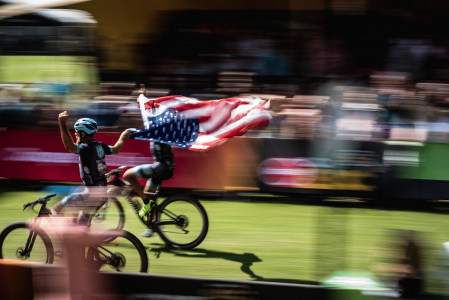 2021 Absa Cape Epic Entries...
2020-05-20
The 55 team entries for the 2021 Absa Cape Epic, which were made available to the public on Tuesday afternoon at 15h00, sold out instantaneously.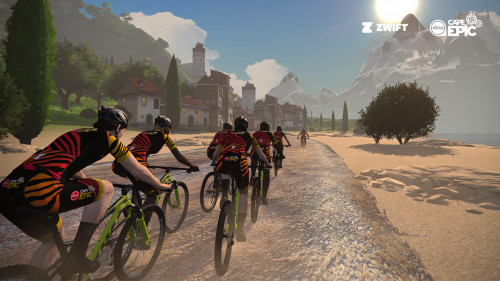 Barney's Army Complete...
2020-04-28
Barney's Army raises R250 000 for communities in Ceres
Absa Cape Epic Helps...
2020-04-02
Ahead of the South African COVID-19 lockdown, the Absa Cape Epic donated 5.5 tonnes of food to needy communities