Racing the Absa Cape Epic in 360-degrees
2016-02-24
In a world first for sporting events, the Absa Cape Epic will include a mountain biker riding with the pro peloton who will deliver 360-degree immersive video during the 8-day stage race when it takes place in the Western Cape in March 2016. 
This collaboration between Bulls Bikes, 3sixtv and the Absa Cape Epic will see Stefan Sahm, a former winner of the Absa Cape Epic, cycling on a Bulls E-bike in the race and filming it in 360-degree immersive video, made possible by the technical team at 3sixtv.
Watch the video here:
"We are constantly looking to innovate and find new ways of covering the racing action – 360-degree immersive video will create never before seen camera angles and allow online users a far more compelling experience. We shot the entire prologue in 360-degree immersive video. We previewed it at the route launch and the response has been phenomenal!" says Sarah Haigh, Marketing and Communications Manager for the Absa Cape Epic.
Myles Hoppe, Managing Director of 3sixtv says: "Having Stefan Sahm, at the race is a major coup. He brings deep insight and a mountain biking skills that will allow us to create next level content for viewers".
3sixtv will use the Bulls EVO F 329 E-bike, a custom developed camera rig and software to create daily 360-degree immersive videos of this year's Absa Cape Epic. The Bulls E-bike features a hot swappable lithium battery that is seamlessly integrated into the frame, smart geometry to ensure a low centre of gravity and superior handling, a maximum of 25km/hour assistance and a range of 220km, depending on the terrain. The Bulls EVO F 329 E-bike is powered by a Brose motor, which is both designed and manufactured in Germany. Brose has extensive automotive experience and has applied the same engineering, quality and manufacturing standards to their E-Bike motors.
Stefan Sahm states: "The design team has produced an E-bike that doesn't compromise on handling or performance – but the Absa Cape Epic will be the ultimate stress test."
"The Absa Cape Epic is a race that measures all, not just the riders. It is a great place for us to push ourselves and our technology to the limit in order to fully capture the Absa Cape Epic experience," explains Hoppe.
Sahm will be a neutral rider and cover the race according to UCI media rules and regulations. The 360-degree immersive videos will be available daily on the Absa Cape Epic social media channels: www.facebook.com/capeepic and www.youtube.com/absacapeepic
For More information please contact: Myles Hoppe +27 797 2919 or myles@3sixtv.com
About 360-degree Immersive Video:
360-degree immersive video is filmed using a 360-degree camera and composited into a 360-degree video file which allows viewers to interact and control what they are looking at. 360-degree video is supported by Facebook, YouTube and a number of freely available 360-degree viewers.
About Stefan Sahm:
Stefan Sahm (The Sahmurai) is a professional MTB rider and former winner of the Absa Cape Epic. Sahm has been racing since 1995 and competed for teams such as Team Bulls (his current team) Giant and T-Mobile. He has penchant for all things technical and is currently working in the Bulls R&D program. In addition, Sahm has created his own brand of accessories, most notably the Sahmurai Sword, which is being sold in 23 different markets.  http://www.stefansahm.de
About Bulls Bikes:
Founded in Germany in 1994, Bulls offers a diverse selection of bicycles including mountain bikes, road bikes, e-bikes, children's bikes, hybrids, commuters and urban models. The brand has enjoyed notable success and widespread popularity as a staple bike manufacturer throughout Europe and launched in the U.S. market in 2015. http://www.bulls.de
About 3sixtv:
3sixtv is a virtual reality production company focussed on producing fully immersive 360-degree video content and other digital video augmentation.
The company is headquartered in Cape Town, working globally. http://www.3sixtv.com
About Brose:
Brose is the world's fifth-largest family-owned automotive supplier. The company develops and produces mechatronic systems for vehicle doors and seats as well as electric motors and drives. Around 24,000 employees work for Brose at 60 locations in 23 countries and generate turnover of just under 6 billion euros. Every second new vehicle worldwide is equipped with at least one Brose product. Brose have been applying their expertise to E-Bike motors since 2013. http://www.brose-ebike.com
About the Absa Cape Epic:
The Absa Cape Epic is the world's premier mountain bike stage race. The route changes every year, leading aspiring amateur and professional mountain bikers from around the world through roughly 700km of unspoilt scenery and 15 000m of accumulated climbing, over some of the most magnificent mountain passes in the Western Cape, South Africa. The Absa Cape Epic is the most televised mountain bike stage race in the world and the only eight-day mountain bike stage race classed as hors catégorie by the Union Cycliste Internacionale (UCI). http://www.cape-epic.com
Latest News
2020 Swiss Epic attracts...
2020-07-28
Many Absa Cape Epic stars will challenge for the Swiss Epic title in 2020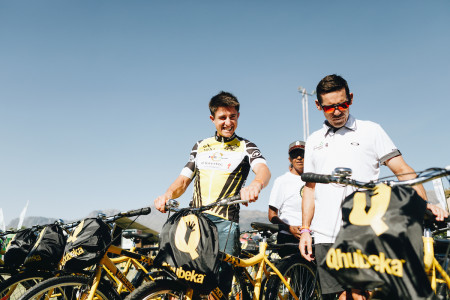 Race for Good
2020-06-09
Limited number of 2021 Absa Cape Epic charity entries available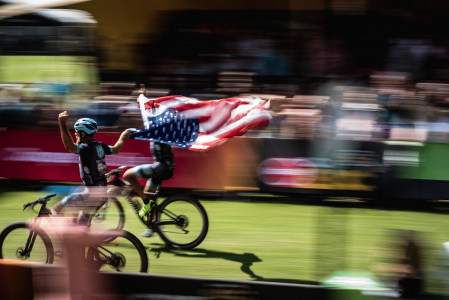 2021 Absa Cape Epic Entries...
2020-05-20
The 55 team entries for the 2021 Absa Cape Epic, which were made available to the public on Tuesday afternoon at 15h00, sold out instantaneously.
Related News
Singletrack heaven for 2016...
2015-10-09
Shorter route, but lots of climbing and challenges