Elite races to be held week before Absa Cape Epic
2017-01-27
The Western Cape has landed another world cycling showpiece event – the UCI Mountain Bike World Cup presented by Shimano race.
The Union Cycliste Internationale (UCI) series attracts the crème de la crème of international cross country mountain biking and tens of thousands of spectators to its races around the world.

Images by Michal Cerveny
The South African leg will open the 2018 season and take place on March 10th on the slopes of the Coetzenburg mountain in Stellenbosch. The event will be staged by Grandstand Management, the Cape Town-based company that operates and manages the Absa Cape Epic, the world's foremost mountain bike stage race.
"This is great news for our sport and the region," said Absa Cape Epic and Grandstand Management CEO Lynn Naudé. These races are televised live to many countries around the world and attract significant media attention."
Alan Winde, Minister of Economic Opportunities, welcomed the news.
"My aim is to ensure that the Western Cape becomes Africa's premier cycling destination. Securing the 2018 UCI Mountain Bike World Cup opener is a major victory in this quest. By showcasing the beauty and sophistication of our trails, this event will stimulate international interest in our province as a bucket-list cycling destination. My hope is that cycle tourism becomes a major revenue and job creator for our region. We're thrilled to be working with such excellent partners in executing this event," said Minister Winde.
Executive Mayor of Stellenbosch, Gesie van Deventer, looks forward to welcoming this event to the area. "As Mayor, I am very excited to have Stellenbosch host the opening leg of the UCI Mountain Bike World Cup in 2018. Stellenbosch is well known as a mountain biking destination in South Africa and this is our opportunity to become an international destination for the sport. We are looking forward to welcoming the visitors, participants and organisers to our region and to partner with them for an incredible world class experience. This is a significant boost to Stellenbosch and will have a knock on effect which will benefit our entire community."
The UCI Mountain Bike World Cup presented by Shimano consists of eight rounds around the world. Riders are given points based on their results and at the end of the year the competitor with the most accumulated points is declared the winner.
Four races will be held in their respective categories on March 10th – the men's and women's elite events and corresponding under-23 races. The races will be held eight days before the start of the Absa Cape Epic and the day before the Cape Town Cycle Tour.
"There are thousands of cyclists in the Western Cape at the time and we hope many will take the opportunity to watch the world's best in action at Coetzenburg," said Naudé.
South Africa previously staged a UCI World Cup race in Pietermaritzburg in 2014.
Cross country races are held over several laps of a physically demanding course, which typically includes technical descents, forest track, rocky paths and natural obstacles. Circuits range from four to ten kilometres each and racing varies from about one hour to two hours. The short nature of the courses mean exciting viewing for television and spectators.
The 2018 race will start from the University of Stellenbosch, on to the cross-country course on the Coetzenburg Mountain. A course already exists on the slopes and has hosted a national championship, but will be upgraded by Grandstand Management.
"The existing infrastructure is already there and is very spectator-friendly. We will be adding some world class elements," said Naudé
Stellenbosch has also been positioning itself as a mountain biking mecca and is a favourite stopover of foreign riders, some of whom stay there to train during the European winter.
She pointed out that securing the UCI Mountain Bike World Cup presented by Shimano round was aligned with Grandstand Management's growth strategy as an event business "and we are naturally delighted to have secured such a prestigious race for the region".
Naude said the benefits for the region would include:
bringing the world's best riders to a passionate South African mountain biking audience
showcasing the region as an ideal destination for major sporting events
promoting a cycling culture and all the health and economic benefits associated with it
Latest News
2020 Swiss Epic attracts...
2020-07-28
Many Absa Cape Epic stars will challenge for the Swiss Epic title in 2020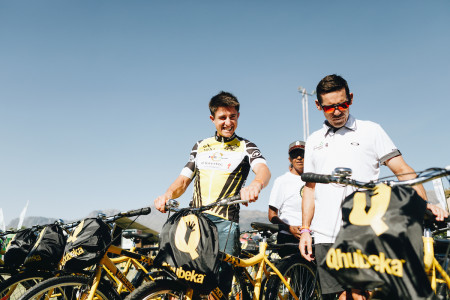 Race for Good
2020-06-09
Limited number of 2021 Absa Cape Epic charity entries available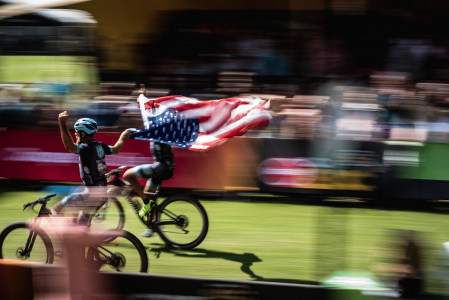 2021 Absa Cape Epic Entries...
2020-05-20
The 55 team entries for the 2021 Absa Cape Epic, which were made available to the public on Tuesday afternoon at 15h00, sold out instantaneously.
Related News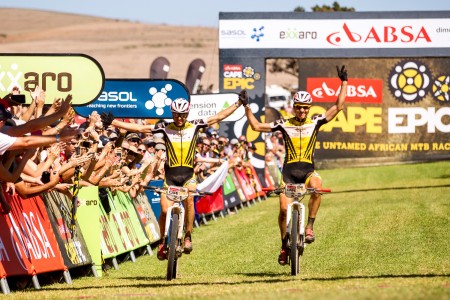 Sauser: why I came out of...
2017-01-18
Swiss champ back with Kulhavy in bid for win number six
Italian duo back with...
2017-01-18
Ferraro and Porro excited about 2017 Absa Cape Epic route
Muc-Off to keep things clean...
2017-01-12
World-leading bike care brand joins Absa Cape Epic sponsor family