Race History
2019
2019 marked the 16th edition of the Untamed African MTB Race which pitted riders against a battle of 624km and 16 650m of climbing on the Western Cape's most beautiful, yet unforgiving trails.
In the Men's category race it was reigning World Champion Nino Schurter and his Swiss compatriot Lars Forster of Scott-SRAM MTB-Racing who took the fight to the field and ultimately dominated the racing, despite a mid-week mishap that saw the Yellow Leader Jerseys find their way onto the shoulders of fan-favourites, Cannondale Factory Racing. 2019's racing was as much a tactical encounter as it was a physical one and what may have been potentially race-winning strategies were employed by a number of teams. At the end of the day Scott-SRAM MTB-Racing claimed the overall victory by 7 minutes 36 seconds over second placed Cannondale Factory Racing; rounding off the podium was Trek Selle San Marco's Damiano Ferraro and Samuele Porro.
The Women's category race was an out-and-out domination by Investec-songo-Specialized's Annika Langvad and her Absa Cape Epic newbie partner, Anna van der Breggen. The racing was a display of power and precision as Annika and Anna won the Prologue, Stage 1, Stage 2, Stage 3, Stage 4, Stage 6, and Stage 7 which earned the pair the overall women's title by a massive 30 minutes. In doing so, Annika Langvad joined the likes of Karl Platt and Christoph Sauser with 5 Absa Cape Epic wins. Second place, including a hard-earned Stage win on Stage 5, was claimed by Summit Fin's Candice Lill and her German partner Adelheid Morath; rounding off the podium was Ariane Lüthi and Maja Włoszczowska.
The 2019 Absa Cape Epic saw riders from 52 countries take up the challenges, both known and unknown as the race moved from the slopes of Table Mountain National Park, to Hermanus and the Race Village at Hermanus High School before heading inland to Oak Valley Wine Estate for three nights. Stage 5 then took riders to the mountain biking mecca of Stellenbosch and the Stellenbosch University Race Village before the Trails to Val de Vie Estate posed one final hurdle before a hero's welcome was rolled out on the manicured lawns of Val de Vie where finishers claimed their spot in the Book of Legend.
2018
The 2018 Absa Cape Epic marked the 15th edition of the Untamed African MTB Race and it was full of surprises. Despite a severe drought crippling the Western Cape, the weather gods were kind enough to deliver a superb mix of conditions which even included a dollop or two of light rain.
The battle between the cross-country riders and marathon racers was incredible but only the most consistent partnership would win. As such it was a case of something old and something new on the top step of the Men's and Women's category podiums when experienced campaigners triumphed with new partners.
In the men's race Czech Jaroslav Kulhavy notched up his third win, this time with young American Howard Grotts (Investec Songo Specialized). The powerful Kulhavy and accomplished climber Grotts made for a formidable combination and eventually dominated the category despite constant attacks from their chief adversaries – Cannondale Factory Racing and Canyon Topeak.
In the women's race Dane Annika Langvad and American newcomer Kate Courtney (Investec Songo Specialized) were in total control from the Prologue, eventually securing the former's fourth win out of four starts by a whopping 46 minutes and bagging every stage expect for the Grand Finale at Val de Vie Estate.
The 2018 route covered 658km with 13530m of vertical ascent. It visited three towns, Robertson, Worcester and Wellington, before culminating at Val de Vie Estate in Paarl. 1344 riders took part and 46% were international competitors from 53 countries.
2017
Nino Schurter arrived at the Absa Cape Epic in 2017 as the reigning Olympic gold medallist and World Champion. He and Team Scott-SRAM partner, Swiss countryman and Absa Cape Epic novice Matthias Stirnemann, were cautious beforehand about their prospects but their aggressive and high tempo approach soon had them at the front of the field. They eventually finished with an eight-minute cushion over the second-placed Czech/Swiss duo of Jaroslav Kulhavy and Christoph Sauser, the five-time winner of the event who had come out of retirement in pursuit of win number six. Cross country specialists Schurter and Stirnemann revolutionised the race tactics by using strategies more familiar to the shorter version of the sport – attacking from the gun and maintaining a fast pace throughout.
The Women's category was overwhelmed by Switzerland's Esther Süss and her Swedish partner Jennie Stenerhag (Meerendal CBC), who won by 35 minutes as other favourites fell away. An emotional Stenerhag pointed out at the finish that a year earlier she had withdrawn from the 2016 Cape Epic with a heart condition that required surgery: a remarkable comeback.
The 2017 event also marked the first time in the race's history that a stage had to be shortened. Stage 2 was reduced from a scheduled 102km to 62km after race doctors warned that the excessive heat could endanger riders.
The 2017 route covered 651km with 15 000m of vertical gain. 1332 riders took part and 51% were international competitors from 58 countries.
2016
Twelve years after claiming his first Absa Cape Epic title, Karl Platt became only the second person to win the event five times when he and Urs Huber (Team Bulls) calmly sealed a dominant victory. The German/Swiss duo's win also marked the 10th year that Team Bulls had taken part in the Cape Epic. The race has additional significance for the Bulls team as the 2007 event was the first they ever raced as a professional outfit. To commemorate the occasion, the Bulls launched Project Zebra – their mission being to claim a fifth Cape Epic victory in 2016. Their kit and bikes were designed to reflect the zebra theme and to show their affinity for a country that they have adopted as their own. The hard work and enthusiasm for riding in South Africa paid off.
After an intriguing week's racing in the Women's category, Ariane Lüthi and Annika Langvad became three-time Absa Cape Epic champions; the Swiss-Danish duo joining Platt and Stefan Sahm as three-time champion pairings.
The 2016 route covered 654km with 15 000m of vertical gain – the most per kilometre in the race's history. 1292 riders took part and 39% were international competitors from 52 countries.
2015
Swiss legend Christoph Sauser sealed his legacy on his last Absa Cape Epic as a professional by becoming the first person to win it five times. His partner, Czech Jaroslav Kulhavy, also left a mark on the event by riding with extraordinary power throughout, driving the Investec-Songo-Specialized team to five stage wins and a dominant overall victory. Returning champion Kristian Hynek, also of the Czech Republic, and Topeak Ergon partner Alban Lakata of Austria had to settle for second place while Team Bulls's Karl Platt (Germany) and Urs Huber (Switzerland) finished third.
Defending champions Ariane Lüthi and Annika Langvad dominated the Women's category again, winning by more than an hour overall in spite of having to overcome a 73-minute penalty after inadvertently taking a short cut on Stage 2. In an incredible performance, the Swiss/Danish pairing had gained back the time lost to their competitors by the end of Stage 3 and were never caught again. 2015 also marked the year that the Absa Cape Epic made history by equalling the women's prize purse to that of the men, a first for women's cycling worldwide.
The race was also memorable for the tough weather conditions, with riders having to confront rain, heat or wind on each of the stages. The 2015 route covered 748km with 16 000m of vertical gain. 1244 riders took part and 39% were international competitors from 55 countries.
2014
The 2014 Absa Cape Epic was one of the most exciting races in the event's history, with four different teams wearing the yellow zebra-striped leaders' jersey on the first four days and plenty of drama across all the racing categories.
Germany's Karl Platt and Switzerland's Christoph Sauser had both won the Epic four times and there was a big focus on whether one of them would bag number five. In the event Platt crashed out of the race and Topeak-Ergon's Robert Mennen and Kristian Hynek held on for the final four stages in spite of suffering some bad luck themselves. They were both first time winners (with Hynek entered for the first time) and with no backup team.
In the women's race, Ariane Lüthi and Annika Langvad won the race after overcoming a troubled opening stage losing over 20 minutes to Briton Sally Bigham and her Swiss partner Esther Suss.
The 2014 route covered 729km with 14 850m of vertical gain. 1234 riders took part and 37% were international competitors from 49 countries.
2013
Two months before the 2013 Absa Cape Epic Burry Stander was killed when he was struck by a minibus taxi while training near his home on the KwaZulu Natal South Coast. Christoph Sauser, who shared victory with Stander in the race's two previous editions, turned to Olympic cross country gold medallist Jaroslav Kulhavy of the Czech Republic to ride in commemoration of Stander. Team Burry Stander-Songo saw off a strong challenge from Team Bulls' Karl Platt and Stefan Sahm, crossing the finish line in Somerset West with a seven-minute lead. By securing his fourth win Sauser tied Platt for the most Absa Cape Epic victories.
England's Catherine Williamson and South African Yolande Speedy (Energas) won the Women's category in spite of the latter breaking ribs on the penultimate stage.
The 2013 route covered 706km with 15 950m of vertical gain. 1 258 riders took part and 33% were international competitors from 45 countries.
2012
The 36ONE-Songo-Specialized team of Burry Stander and Christoph Sauser dominated from start to finish in 2012, winning the prologue and five of the seven stages. The South African duo of Kevin Evans and David George (360Life) finished second but were more than 27 minutes behind in total after the eight days of racing.
By now the race was attracting the best marathon racers in the world and the next four places were all filled by teams that had the pedigree to win the event: the German-Swiss team of Hannes Genze and Andreas Kugler (Multivan Merida Biking) was third, the Bulls 2 team of Germans Thomas Dietsch and Tim Boehme finished fourth, Alban Lakata of Austria and German Robert Mennen (Topeak Ergon Racing) were fifth while the Bulls 1 team of Karl Platt and Stefan Sahm were sixth after a troubled event.
Sally Bigham and Switzerland's Esther Suss (Wheels4Life) won the Women's category.
The 2012 route covered 775km with 16 300m of vertical gain. 1200 riders took part and 34% were international competitors from 49 countries.
2011
Burry Stander made history on 3 April 2011 by becoming the first South African to win the Absa Cape Epic. Stander, who was already making his mark on the international World Cup circuit, and his Swiss teammate Christoph Sauser (36ONE-Songo-Specialized) won five of the seven stages. They eventually finished seven minutes overall ahead of the German pairing of Hannes Genze and Jochen Käss (Multivan Merida Biking). The Bulls' German teammates Karl Platt and Stefan Sahm finished third overall.
Briton Sally Bigham and South Africa's Karien van Jaarsveld (USN) won the Women's category.
The 2011 route covered 708km with 14 550m of vertical gain. 1200 riders took part and 40% were international competitors from 49 countries.
2010
Even as outright race favourites, the Bulls still had to prove themselves after what many had said was a lucky win in 2009. Their strength and tactical aptitude was tested to the limit as Team MTN Qhubeka's Kevin Evans and Alban Lakata powered to victory on Stage 1, taking the race lead. Illness put Burry Stander out of action early in the race but he and Christoph Sauser went on to make good with three stage victories. Meanwhile, MTN Qhubeka's tyre woes denied them the chance of a first South African overall win at the Absa Cape Epic. Arriving at the finish in Somerset West, the Bulls had prevailed – it was Platt's fourth victory, Sahm's third.
Denmark's Kristine and Anna-Sofie Noergaard (Rothaus-CUBE) won the Women's category.
The 2010 route covered 661km with 14 126m of vertical gain. 1200 riders took part and 38% were international competitors from 51 countries.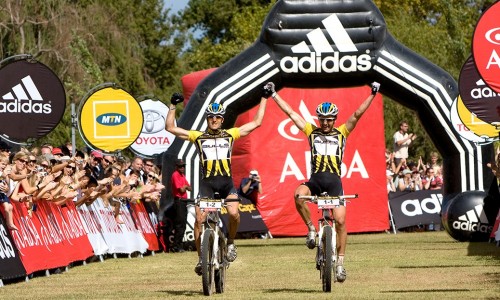 2009
A powerful new team came to the fore in 2009: South African Burry Stander and Swiss Christoph Sauser (songo.info). The pair won the Prologue and the first three stages and appeared destined to win the race overall. However, Stander's momentary lapse of concentration on Stage 4 put an end to their overall hopes when he smashed his front wheel. The Bulls capitalised and held the leader's jerseys from that stage until the end, seeing off a spirited challenge from old rival Bart Brentjens and Australian partner Chris Jongewaard. Team Bulls' campaign was not without incident and they broke a chain on the penultimate stage into Oak Valley, Elgin. True to form, it was repaired quickly and they limited their losses.
The Women's category was won by Briton Sharon Laws and her South African partner Hanlie Booyens (Absa Ladies).
2009 also saw the introduction of a new format: the point-to-point ride from Knysna to Stellenbosch/Somerset West was replaced by a prologue in Cape Town and a route that included looped stages that started and finished at the same venue.
The 2009 route covered 744km with 15 132m of vertical gain.1200 riders took part and 32% were international competitors from 46 countries.
2008
After the disappointment of the previous year, Roel Paulissen and Jakob Fuglsang were back and baying for the Bulls' blood. After a dominant performance on Stage 2, and with the Bulls imploding that same day as the race headed into Calitzdorp, Cannondale Vredestein had a comfortable lead over the Germans. Some tyre trouble outside Bredasdorp briefly threatened their dominance later in the race, but they overcame it to stay ahead of the pack. The Belgian/Danish team made their case by winning the 2008 event convincingly.
Pia Sundstedt of Finland and Alison Sydor of Canada (Rocky Mountain) won the Women's category.
The 2008 route covered 966km from Knysna to Somerset West with 18 529m of vertical gain. It included the race's first prologue time trial. 1200 riders took part in 2009 and 29% were international competitors from 41 countries.
2007
2007 saw the debut of Team Bulls, a professional outfit that was to become synonymous with the Absa Cape Epic. It recruited Karl Platt and teamed him with another ace German stage racer, Stefan Sahm. After two years of having to watch other riders take the top step of the podium, Platt triumphed again. But it wasn't easy: Platt and Sahm won Stage 1 in a sprint finish against Roel Paulissen and Jakob Fuglsang (Cannondale Vredestein), which set the tone for the week of racing. By the time they finished in Somerset West the yellow leader jerseys had changed shoulders four times, but Platt and Sahm had the final word. Their victory marked the beginning of what was to become the most successful partnership in the Absa Cape Epic.
South Africans Anke Moore and Yolande de Villiers (Duravit) won the Women's category.
The 2007 route from Knysna to Somerset West covered 886km with 15 045m of vertical gain. 1200 riders took part and 29% were international competitors from 45 countries.
2006
In 2006 Christoph Sauser gave the first real indication of the force he was going to become in the Absa Cape Epic when he and countryman Silvio Bundi won by an overwhelming 29 minutes. Previous winner Karl Platt, riding with countryman Carsten Bresser, finished third. German Johannes Sickmuller and Switzerland's Christian Heule finished second, but were well beaten by the finish of the race from Knysna to Stellenbosch.
In 2006 the route covered 940km with 16 605m of vertical gain. 1040 riders took part and 31% were international competitors from 35 countries.
2005
By 2005 the race was gaining an international reputation and former world champion, Olympic gold medallist and general mountain biking legend Bart Brentjens was among those on the start line at Knysna. He and Belgian Roel Paulissen dominated the event and had built up a commanding 26 minute lead by the time the race finished near Stellenbosch. Also in the field for the first time was Christoph Sauser of Switzerland, himself a former world champion, World Cup winner and Olympic medallist. The man who would come to dominate the Absa Cape Epic in years to come finished second with Swede Fredrik Kessiakoff.
In 2005 the route covered 898km with 16 020m of vertical gain. 840 riders took part and 25% were international competitors from 29 countries.
2004
In its inaugural year, the Absa Cape Epic immediately attracted some of the biggest names in the sport, including stage race supremo Karl Platt. The German teamed up with Namibian legend Mannie Heymans, himself one of the world's top marathoners at the time. Platt and Heymans saw off a spirited challenge from Kenyans David Kinjah and Davidson Kamau to win six of the eight stages. Their dominance eventually took them home with an overall lead of 20 minutes.
In 2004 the route from Knysna to Stellenbosch covered 788km with 17 380m of vertical gain over that distance. 550 riders took part and 21% of those were international competitors from 20 countries.
You might also like