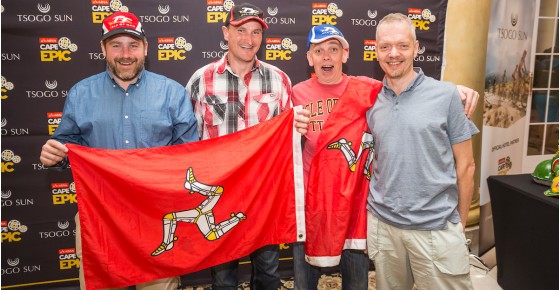 As part of the Absa Cape Epic experience, riders will be given the opportunity to attend exclusive Absa Cape Epic Rider functions including the Around the World Party as well as Gear Down.

Riders are encouraged to take part in events before the race to enhance their experiences - and you never know when you might need an extra tube at the race!
Route Launch Gala Dinner
The Route Launch Gala Dinner is normally held in September, but due to the 2020 event cancellation the details of this gala dinner are yet to be confirmed.
We were really looking forward to the 2020 route, one that our team thought would have been our best ever, and therefore we will keep the same route for 2021. For this, we are incredibly grateful to the more than 100 landowners and our host towns and venues that have already confirmed their support for 2021.
Rider Information Evening
The Rider Info Evening is an opportunity to interact with experienced staff, riders and cycling experts to assist you with your planning for the Absa Cape Epic.
Due to Covid-19 regulations, the 2020 delivery of the Rider Info Evening will be through a virtual platform. We highly recommend this for first time riders, and welcome returning riders to ask any specific information about next year's route. Details of the event will be communicated to riders as soon as they have been finalised.
Date: To Be Confirmed
Venue: To Be Confirmed
Time: To Be Confirmed


Around the World Party
The Absa Cape Epic attracts participants from over 50 countries around the world, and to celebrate this Tsogo Sun is hosting the "Around the World" party on Friday before the start of the race. Tsogo Sun is our official accommodation partner and will be dazzling you with an incredible setting and an international culinary experience.
In order to welcome all the international participants and to celebrate each country's individuality, we ask all attendees to dress up in traditional clothes or colours representing their country. There will be a prize for the best dressed person or team and spot prizes throughout the party.
This exciting event is going to be a sensation of flavours, colours and culture.
Date: Friday, 19 March 2021
Time: 18:00 for 18:30
Venue: Southern Sun The Cullinan
Dress code: Dress to represent your country
*Please note this event is included in the 2-night, 3-night and 4-night pre-accommodation packages only.
Amabubesi Breakfast
The annual Amabubesi breakfast is hosted in Cape Town on the day before the start of the race. It is a time to come together with fellow members of the prestigious club and swap Absa Cape Epic war stories and encourage those taking on the challenge once again. The Amabubesi breakfast is open to all club members, including those not participating in the current year's race.
Date: 20 March 2021
Time: 08:00 for 08:30 to 10:00
Venue: Chill Zone, UCT
Gear Down
After accomplishing 8 days of Epic riding and months of hard training it is time to relax. So gear down and enjoy some drinks and snacks with fellow riders around the Pool Deck at Southern Sun The Cullinan.
Date: Sunday, 28 March 2021
Time: 19:00
Venue: Southern Sun The Cullinan – Pool Deck
Address: 1 Cullinan St, Cape Town City Centre, Cape Town, 8001
You might also like