Prologue
Date: Sunday, 20 March 2022
Venue: Lourensford Wine Estate
Time: 06:00 - 13:00
We understand that the Prologue is a big day and sometimes the magnitude of the occasion can cause added stress levels – that's why we've packaged a few key points to help all teams get through the day as smoothly as possible.
When you register the day before (Saturday), ensure that you orientate yourself and know where to go to line up for your Prologue start time on Sunday morning.
Arrive with sufficient time to get from your vehicle to the start area and expect there to be traffic, as Lourensford Wine Estate has a single entrance and exit point into the venue.
Arrive at the Prologue line up area 15 minutes prior to your Prologue Start time.
There is a Woolworths Chute Bag drop at the start, just before you get onto the start ramp. Take your day bag with you and drop it on your way past as you line up to roll off the start ramp. Collect it upon your return as you exit through the Woolworth recovery zone. Ensure your bag has your rider number clearly marked on it.
Riders staying in the tented village may secure their rider tent by attaching their tent tag upon arrival. The rider tent tag can be found in your registration envelope.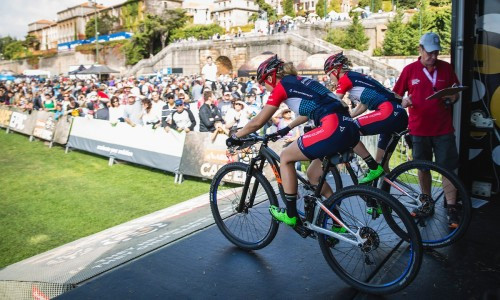 Start Times
It is crucial that you and your partner check-in at the designated call up area 15min before your allocated time. If a team misses their start time, they will have to start at the back of the field.
Bike Wash and Bike Park
As you cross the finish line, you may hand your bike to the bike wash and bike park assistants who will wash and store your bike for you in the Bike Park.
| Start | Finish | Activity |
| --- | --- | --- |
| 06:30 | 19:00 | Race Office opening hours |
| 06:30 | 14:00 | Absa Cape Epic Merchandise Store |
| 06:40 | | First team start |
| 09:00 | 14:00 | Bike Wash & Bike Park |
| 09:00 | | Savanna Chill Zone |
| | | UCI Women Racing |
| | | UCI Men Racing |
| 12:00 | | Podium Awards Presentation |
*Please note: These times are subject to change
You are the only person who can check-out your bike for the duration of the event. Your rider numbered wristband will give you access to the Bike Park – your mechanic will not have access to the bike park unless specific arrangements have been made prior to the start of the race. Please email registration@cape-epic.com should you wish to make arrangements for your bike mechanic to collect your bike on your behalf during the event. Please remember to not leave bike computers and other valuable items on your bike after crossing the finish line.
Race Village 1 - Lourensford
The Lourensford race village will be fully operational from Prologue day. Please note that riders may not sleep in the rider tents before Prologue day, however, you may attach your tent tag in advance to secure your tent.