Travel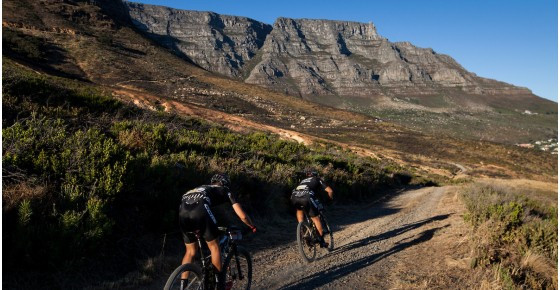 Each year riders travel from around the globe to join as at the Absa Cape Epic. With travel, comes planning, and so we've taken some time to put together some tips and information for first time travellers visiting Cape Town.
International Travel
Visa Requirements
Due to the current global uncertainty regarding travel, we will keep you updated if any changes in the below information arise:
Every rider (and every supporter) must be in possession of a valid passport in order to enter South Africa. For some countries, you may also need to apply for and be in possession of a visa.
Please be sure to contact the South African embassy in your country and confirm whether or not you require a visa to enter South Africa. Ensure that your passport is valid over the duration of your stay. It is vital that you check and confirm these details prior to your departure as you will not be allowed to enter the country without the necessary documentation. You can visit the website of The South African Department of Home Affairs for more information on visa applications.
If you require a letter for your visa application stating that you will be attending the Absa Cape Epic, please send us an email at registration@cape-epic.com and we will gladly assist. A form visa letter will be available for download from your online profile from October.
Travel Insurance, Bike Insurance, Medical Aid/Insurance
Travel insurance is there to assist travelers by covering any medical expenses and/or losses incurred whilst on their travels. Travelling always involves some form of risk and it is important to note that you will be taking part in a high-risk sport during your stay here. Therefore, it is highly recommended that riders take out appropriate travel insurance (that includes medical aid/health insurance) for the duration of your trip here that will cover both you and your bike in the unfortunate event of injury/illness or damage to equipment etc.
We also recommend that you have credit card with you at all times in order to facilitate swift treatment in a medical emergency that requires hospitalisation.
Customs Restrictions 
South Africa has specific customs requirements regarding items that need to be declared. Be sure to familiarize yourself with these rules and items so that your arrival into South Africa is seamless.
Currency and Typical Exchange Rates 
In South Africa, the South African Rand (ZAR) is used. Be sure to check the exchange rates prior to your departure. All major credit cards (Visa and MasterCard) can be used in South Africa. Make sure you notify your bank that you will be travelling and using your card in a foreign country.
All major South African banks have branches in Cape Town and you will find ATM's in many locations around the city (airports, shopping malls, etc.). If you want to exchange your currency for Rands at a bank or foreign exchange dealer, make sure you have your passport with you. There are kiosks available for you to exchange foreign currency at all of our international airports and most shopping centres/malls.
Please note that you cannot use foreign currency in the Absa Cape Epic race villages. ATM's will only be available at the Prologue and Grand Finale. We will be travelling to remote areas so please ensure you are prepared with enough cash in Rands as well as your credit card in case there is no ATM available in the immediate vicinity.
Avis Vehicle Rental
Our official vehicle rental sponsors at Avis have arranged preferential package rates with multiple benefits, exclusive for our riders.
Special inclusions in the per day rate are the following:
100 km per day free
Super Collision Damage Waiver
Super Theft Loss Waiver
Windscreen Tyre Damage Waiver
Additional Driver up to 3
VAT
Airport Surcharge and Tourism Levy
All Additional Charges are extras.
Cape Town and the Western Cape
Absa Cape Epic riders enjoy a rare opportunity to explore some of the most remote and spectacular parts of Cape Town and the Western Cape during the race. For riders and their supporters wishing to experience more of the unrivaled natural beauty this area has on offer, the Absa Cape Epic makes for an ideal launchpad. Whether they arrive before the race to familiarise themselves with the climate and terrain, or decide to stay after the event to relax and unwind.
Cape Town is the tourism capital of South Africa and the city is famous for its incredible beauty, set amongst towering mountains, historic vineyards, turquoise waters and white beaches. The wider Western Cape is picturesque and caters for all travelers, be it five-star luxury or wild adventures they seek. The weather is very enjoyable over the months of March and April with an average high of 25 degrees Celsius and an average low of 14 degrees Celsius. Rain is unusual but not unheard of.
For more tourist information on Cape Town and the Western Cape:
Safety and Security
We recommend that the below tips are taken into account when it comes to safety and security in Cape Town:
Make sure all valuables, passports, cameras, etc. are locked away safely in your accommodation. 
Be sure not to leave any valuable items (such as the above) visible in your car when unattended.
Avoid having valuable items on display when walking around the city (i.e. cameras around your neck, phones, wallet, jewelry, etc.).
Be cautious when embarking anywhere by foot or bike at night. Stick to well-lit, busy areas.
Always be vigilant when drawing money from an ATM.
Keep the number of valuables that you bring to the race villages to a minimum. Avoid bringing laptops, large cameras, jewelry, etc. but make sure that you have your passport/ID, credit card and cellphone with you during the event.
| Service | Contact Number |
| --- | --- |
| ER24 | 084 124 |
| Police | 10111 |
| Fire | 10111 |
| Ambulance | 10117 |
| Arrive Alive Call Centre | 0861 400 800 |
| Netcare 911 | 082 911 |
| Cell Phone Emergency Number | 112 |
Communication and Connectivity
Phoning Overseas From South Africa 
The access code for making international calls from South Africa is 00. To make a call, you must first dial 00, then the country code, then the area code and then the number you wish to call. 
South Africa's country code: +27
Should you wish to buy a sim card or enquire about cellphone service providers available in South Africa, the following service providers are the most popular in SA:
These service providers have multiple shops and info desks in Cape Town, including branches at the airport and in shopping malls.
WIFI Connectivity
Most restaurants, shopping malls and accommodation have wifi available. Cape Town also has multiple public wifi zones which are free, you will see signs around Cape Town where this service is available. Should you require wifi during your stay before/after the race, be sure to confirm with your accommodation beforehand if they have this facility available for you.
Wifi will be available at each race village during the event compliments of Official Technology Partner, Dimension Data.
Shopping and Restaurants
Bike Shops
There are many bicycle shops around Cape Town that can be found with a simple Google search. If you are a part of our pre-accommodation package, Manic Cycles will be based in the hotel and available to you for all of your bike's needs before the event.
Shopping
Cape Town hosts some of the best shopping experiences in the country and there is no doubt you will be able to find everything you need.
A few of these include: 
Stores like Woolworths, Pick n Pay & Checkers are popular supermarkets where you can buy a wide variety of goods such as food, clothing, electronics, tools, and various other supplies.
Restaurants
Cape Town is well known for its variety of restaurants which catering to all taste buds. Whether it's a quick bite to eat or a fine dining meal, the following directories will be able to help you find what Cape Town has to offer.
Tipping your waitron/bartender at restaurants is customary in South Africa. 10% gratuity on your bill in restaurants is accepted.