2023 Absa Cape Epic: 19 - 26 March
Each standard entry includes:
Tented accommodation in the Absa Cape Epic Race Village (seven nights, starting on Sunday night after the first day of riding to Saturday night after Stage 6)
Dinner, recovery meal and breakfast in the Absa Cape Epic Race Village (starting from your first recovery meal on Sunday after the Prologue to Sunday breakfast before Stage 7)
Water point nutrition throughout the race route
Transport of SCICON® rider bag to each stage starting from Stage 1
Race medical services on the race route and free on-site basic treatment in the Race Villages
Bike wash and security in each Race Village
Free WiFi in all race villages provided by Dimension Data
Sponsor provided participant gifts
Woolworths picnic lunch to enjoy with your supporters at the Grand Finale
Absa Cape Epic finisher t-shirt (only given to official finishers)
Ride Review (e-book)
Tented Accommodation
The standard team entry includes tented accommodation in each Absa Cape Epic race village for seven nights (i.e. Sunday to Saturday night, inclusive). Each rider will have access to:
One two-person tent per rider (this will comfortably fit the rider and his/her rider bag)
One comfortable mattress, covered in plastic NB: please keep the plastic on the mattress
One mattress cover
Note: accommodation is NOT included before the first day of racing (Prologue), nor after the Grand Finale, however pre and post race accommodation packages can be purchased.
Sponsor provided gifts
Each rider will receive:
Absa Cape Epic garment
SCICON® rider bag
Each official finisher will also receive:
Absa Cape Epic finisher's medal
Absa Cape Epic finisher's t-shirt (only given to official finishers)
Woolworths picnic lunch to enjoy on the Grand Finale day
Luggage Transport
Each rider's Absa Cape Epic rider bag is transported between Race Villages.
Riders need to make arrangements for transportation from the location of the first day's riding to the first Race Village, unless they have purchased an Accommodation package or Avis Upgrade package through the Optional Extras store, that cover this transport. (Not Applicable in 2022 due to Prologue and Stage 1 being at the same venue for the first time.)
Riders can check in a bike box or bag at registration at Lourensford before 13:00 on the day of registration. These bike boxes and bags will be securely stored for the duration of the event and available at the Grand Finale.
All luggage must be collected at the Grand Finale by 16:00, including the luggage checked in for storage before the race.
Bike Wash and Security
At the finish line of each stage bikes are taken from riders by the Bike Wash crew. Bikes are washed and transferred to the secure bike park. Bio-degradable cleaning agents keep the bikes clean and shining throughout the race.
The Bike Wash crew are specially trained to operate the high pressure hoses used for bike cleaning and do not spray directly into the bike's bearings or seals.
Once cleaned the bikes are stored in a 24-hour manned security bike park in rider number sequence. Only riders are allowed access to the bike park and will be responsible for collecting their own bikes should they require maintenance or repair. While the bike parks are extremely secure, they are generally uncovered, so bikes are not protected from rain.
Note: Only riders are allowed access to the bike park. No other person will be allowed to retrieve a rider's bike, even if a bike service package has been purchased.
Bike Services
Over the course of the week, the Absa Cape Epic offers a fully equipped bike service support team both on route and in the Race Village. Their teams will ensure that your bike is professionally maintained from the Prologue right through to the Grand Finale.
Technical support will be available to all riders on route at the water points each day. Please ensure that you carry your credit card with you to pay for any services or parts required on route.
Please note: Limited booking space may be available within the Race Village Tech Zone, so we would suggest you book your spot in advance if you plan to make use of any of their services.
Route Tech Support: Olympic Cycles
Race Village Tech Zone: Manic Cycles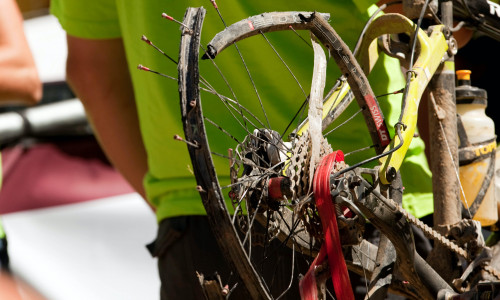 The Strip Stop and Woolworths Chute Bag
The Absa Cape Epic and Woolworths offer a handy service for riders. This service is simple: riders can discard any unwanted kit (leg warmers, arm warmers, gloves, riding jackets etc.) at the start chute and at Water Point 1 of each stage, so that they don't have to carry it for the remainder of the stage. Ideal for cold mornings that turn into baking middays. Each rider will receive a Woolworths Chute Bag at registration day to use during the event.

How it works:
Riders can hand in any unwanted kit at the chute and at the Strip Stop situated at Water Point 1 of each stage.
Riders must deposit the items in their Woolworths Chute Bag in the container at the side of the chute and in the bag that will be provided to them at Water Point 1. Riders must seal it and clearly mark it with their team's race number.
One bag per team is permitted at the Water Point 1 Strip Stop per stage.
Woolworths Chute Bags and Strip Stop bags will be transported back to the Race Village and can be collected in the Woolworths Recovery Zone once you finish that day.
If you are a racing snake and every second is precious, you're more than welcome to provide your own bag at Water Point 1, provided you carry it with you from the start. However, they must be sealable and clearly pre-labelled with your team race number. Please note that we can take no responsibility for any items that are not placed in clearly labeled, sealed bags.

The Strip Stop promises to take good care of your kit, however the service is used at rider's own risk.

Note: Any uncollected items at the end of the event will be donated to charity.
Medical Service
Mediclinic, a leading provider of professional medical support at major sporting events, has been involved with the Absa Cape Epic since the race's inception.
Services provided:
An emergency medicine specialist heads a team of seven medical doctors, seven registered nurses, 12 medics and 34 marshals.
A fully-equipped field hospital, situated in the race village, is operational before and after each day's riding for wound treatment, injuries, etc. Emergency services are available round the clock.
Mobile medical support, comprising several 4x4 ambulances each manned by a doctor and a registered nurse, is positioned near refreshment stations en route.
Rapid evacuation to nearby medical facilities in emergencies that are beyond the scope of the field hospital. Please carry a credit card with you to facilitate swift admission procedures.
All riders' detailed medical information is available to doctors, nurses and medics instantly, allowing medics to make informed clinical decisions. (It is critical that you take the time to complete your Medical Questionnaire through your online profile.)
Basic services are free, however, medication for pre-existing chronic illnesses and ailments will be charged at cost. Consumables for repeated daily strapping of repetitive stress related injuries will be available at cost throughout the race. Riders that require daily strapping are welcome to bring their own consumables (rigid strapping tape).
Food and Nutrition

Breakfast (from 5am to 7am) includes cereals and porridge, hot options, fresh fruit, tea and coffee, bread and spreads. Riders will be able to make their own sandwiches for the day's stage.
Dinner (from 6pm to 8pm) includes salads, carbohydrates, a red and a white meat option, cooked vegetables, dessert and fresh fruit.
The Chill Zone has a wide selection of alcoholic and non-alcoholic beverages on sale throughout the day.
On the Route there will be up to three full service water points and one hydro water point on the route each day, depending on the length of the stage. Filtered water is chilled in refrigeration trucks so that no matter the air temperatures riders will have cool water and energy drinks at each water point.
Water Points
Full-service water points will have a range of Woolworths snacks on offer to keep your energy levels up where they need to be.
These include sweets, protein/cereal bars, fresh fruit, marmite or cheese sandwiches, fresh fruit or mini muffins, fruit cake or dates, baby potatoes and savoury snacks e.g. rice crackers, pretzels.
Full-service water points will also be stocked with USN energy bars, USN endurance drinks, Coca-Cola and water.

Hydro water points along the route will include:Limited Woolworths non-perishables, USN energy bars, USN endurance drinks, Coca-Cola and water
Post Race Nutrition
After each day's ride, Woolworths greets every rider on the finish line with a complimentary chilled towel. Riders can then head for the Woolworths Recovery tent where they can choose from a wide selection of Woolies' sandwiches, protein snacks, fresh fruit, drinks and other snacks as well as a ready-to-heat meal (also complimentary) to start the recovery process. There are also food stalls in the finish area where riders and supporters alike can buy a range of take-away food. Riders are responsible for their own nutrition between race finish and the evening meal provided in the Race Village.
An example of what is included in a recovery meal courtesy of Woolworths:
Sandwich/Wrap/Pasta Salad
Dairy drink
Fruit
Protein snack
Additional snack e.g. sea salt & black pepper beetroot crisps or power grains wholegrain brown rice crackers
You might also like