2019 Overall Results - Masters
61-1

Shaun Frayne
Individual Finisher
37:07.03,9 (16.97km/h)
61-2

Nico Pfitzenmaier
Out of race
2019 Stage Results - Masters
Prologue

40. Cat, 183. GC
01:01.05,8

+12.19,5
Stage 1

30. Cat, 129. GC
05:49.51,5

+1:04.29,0
Stage 2

37. Cat, 164. GC
04:59.04,3

+58.15,4
Stage 3

80. Cat, 273. GC
07:00.16,7

+1:56.47,2
Shaun and Nico have not completed the Absa Cape Epic together. Shaun and Nico have completed none of the one Absa Cape Epics they entered together.
They have achieved the following results together:
2019

Team dormakaba SSA (Masters), Did not finish race
61-1

Shaun Frayne
South Africa
Epics Completed:
2
Age:
51
Absa Cape Epic History:
2019 - Individual Finisher (Masters) Time: 2017 - Finisher (Masters)
Cat Pos: 68. GC Pos: 210. Time: 39:22.03,32016

- Did not finish (Masters)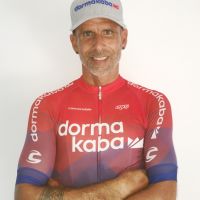 61-2

Nico Pfitzenmaier
Germany
Epics Completed:
6
Nickname:
nico
Age:
48
Profession:
sports massage therapist and healer
I entered the Absa Cape Epic...

Because my friend Rob Sim was looking for a strong partner in order to try fulfill his dream of winning the masters category 😉
Best Results:
2nd place at cape epic mixed 2007
1st place at the cape epic mixed 2008
1st place at the cape epic mixed 2009
1st place at the cape epic masters 2013"
1st place uci master world championship 2013

Absa Cape Epic History:
2019 - Did not finish (Masters) 2015 - Finisher (Masters)
Cat Pos: 2. GC Pos: 18. Time: 34:42.34,6
Stage Wins: Prlg. Stg 2. Stg 3. Stg 4. (4)2013 - Winner (Masters)
Cat Pos: 1. GC Pos: 11. Time: 32:27.38,4
Stage Wins: Stg 3. Stg 4. Stg 5. Stg 6. (4)2012 - Did not finish (Masters) 2010 - Finisher (Mixed)
Cat Pos: 3. GC Pos: 32. Time: 35:51.45,22009 - Winner (Mixed)
Cat Pos: 1. GC Pos: 22. Time: 32:13.09,5
Stage Wins: Prlg. Stg 1. Stg 2. Stg 3. Stg 4. Stg 5. Stg 6. (7)2008 - Winner (Mixed)
Cat Pos: 1. GC Pos: 29. Time: 43:31.32,1
Stage Wins: Prlg. Stg 1. Stg 2. Stg 4. Stg 5. Stg 6. Stg 7. Stg 8. (8)2007 - Finisher (Mixed)
Cat Pos: 2. GC Pos: 22. Time: 39:23.43,4
Stage Wins: Stg 5. Stg 6. Stg 7. (3)