Andries and Rob have not completed the Absa Cape Epic together. Andries and Rob have completed none of the one Absa Cape Epics they entered together. 2021 will be the second Absa Cape Epic they ride together.
They have achieved the following results together:
2021

Team ICG FlexClub (Men), Riding
2020

Team ICG FlexClub (Men), Did not finish race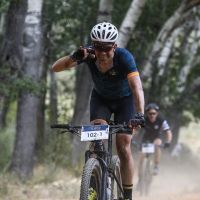 222-1

Andries Potgieter
South Africa
Epics Completed:
none
Age:
45
I entered the Absa Cape Epic...

Bucket List
Absa Cape Epic History:

222-2

Rob LeBlanc
Canada
Epics Completed:
none
Age:
36
Absa Cape Epic History: