Mark and Samuel have not completed the Absa Cape Epic together. Mark and Samuel have completed none of the one Absa Cape Epics they entered together. 2021 will be the second Absa Cape Epic they ride together.
They have achieved the following results together:
2021

Team Geers and Beers (Grand Masters), Riding
2020

Team Geers and Beers (Grand Masters), Did not finish race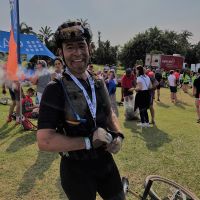 391-1

Mark Hewett
Canada
Epics Completed:
none
Age:
50
Best Results:
Learning to ride over 30 years ago on Vancouver's North Shore. Technical riding heaven!
Completing the Sani2C in 2019 - kindled a strong desire to come back to South Africa and see even more of the beauty of South Africa.
Peru downhill (primarily) riding in 2017 - talk about elevation!
Switzerland and Italy mountain biking in 2015 - What a beautiful part of the world and the food and drink are the most amazing in the world.
Hornby Island in BC, Canada - always one of my favourite fun places to ride. 4 Dead Aliens!

Absa Cape Epic History:

391-2

Samuel Mottram
Canada
Epics Completed:
1
Age:
50
Best Results:
Keeping the rubber side down.
- South Africa: Cape Epic, Hill2Hill, Sani2C, riding up and down Sani Pass
- Canada: Test of Metal, Nimby50, Spakwus Challenge, Sunshine Coaster
Absa Cape Epic History:
2017 - Finisher (Masters)
Cat Pos: 118. GC Pos: 375. Time: 46:18.22,0