Angus and Sean have not completed the Absa Cape Epic together. Angus and Sean have completed none of the one Absa Cape Epics they entered together.
They have achieved the following results together:
2020

Team Tandrat (Men), Did not finish race
94-1

Angus Taylor
South Africa
Epics Completed:
4
Age:
49
Profession:
SCULPTOR
I entered the Absa Cape Epic...

I was provoked by Jules and got to love it and am now somewhat addicted to it.
Best Results:

The female's breasts that I stared at right before I crashed and broke my hand.
Absa Cape Epic History:
2015 - Finisher (Men)
Cat Pos: 195. GC Pos: 375. Time: 53:00.25,12014 - Finisher (Masters)
Cat Pos: 88. GC Pos: 306. Time: 48:33.17,12013 - Did not finish (Masters) 2011 - Finisher (Masters)
Cat Pos: 154. GC Pos: 492. Time: 58:23.58,02008 - Finisher (Men)
Cat Pos: 213. GC Pos: 330. Time: 64:31.09,82006

- Did not finish (Men)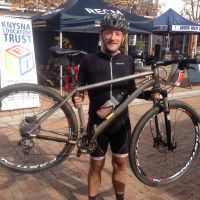 94-2

Sean O'Toole
South Africa
Epics Completed:
none
Age:
51
Absa Cape Epic History: