2021 Overall Results - Mixed
Time

36:21.22,5
Distance

611km
Avg. Speed

16.81km/h
Climbing

14900m
2021 Stage Results - Mixed
Prologue

6. Cat, 131. GC
01:06.23,3

+12.02,9
Stage 1

6. Cat, 132. GC
05:27.41,9

+44.37,0
Stage 2

5. Cat, 107. GC
05:27.25,4

+39.48,5
Stage 3

6. Cat, 114. GC
05:25.43,6

+50.00,2
Stage 4

5. Cat, 124. GC
03:52.00,5

+30.54,5
Stage 5

5. Cat, 113. GC
05:54.36,5

+57.48,9
Stage 6

6. Cat, 108. GC
04:58.40,1

+40.51,6
Stage 7

7. Cat, 119. GC
04:08.50,8

+36.10,2
Greg and Tessa have completed the Absa Cape Epic they entered together.
They have achieved the following results together:
2021

Team G & T (Mixed), Cat Pos: 5., GC Pos: 109., Time: 36:21.22,5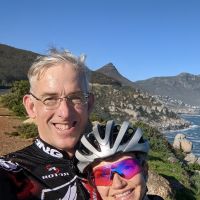 203-1

Greg Keers
England
Epics Completed:
2
Age:
56
Best Results:

Finishing 2011 Cape Epic in a respectable position despite being clueless. XCO province colours.
Absa Cape Epic History:
2021 - Finisher (Mixed)
Cat Pos: 5. GC Pos: 109. Time: 36:21.22,52011 - Finisher (Men)
Cat Pos: 114. GC Pos: 186. Time: 42:30.31,5
203-2

Tessa Keers
South Africa
Epics Completed:
1
Nickname:
Tess
Age:
45
Profession:
Finance
I entered the Absa Cape Epic...

Bucket list. Greg said I wouldn't enjoy it - I'd like to see for myself!
Absa Cape Epic History:
2021 - Finisher (Mixed)
Cat Pos: 5. GC Pos: 109. Time: 36:21.22,5