2022 Overall Results - Grand Masters
49-1

Rene Vallee
Individual Finisher
40:38.48,9 (16.75km/h)
49-2

Denis Liaud
Out of race
2022 Stage Results - Grand Masters
Prologue

12. Cat, 132. GC
01:19.19,9

+7.23,9
Stage 1

20. Cat, 199. GC
06:39.19,5

+1:48.31,5
Stage 2

11. Cat, 114. GC
07:22.42,5

+1:10.21,1
Stage 3

10. Cat, 116. GC
05:24.25,9

+47.34,3
Rene and Denis have not completed the Absa Cape Epic together. Rene and Denis have completed none of the one Absa Cape Epics they entered together.
They have achieved the following results together:
2022

Team La Forestiere (Grand Masters), Did not finish race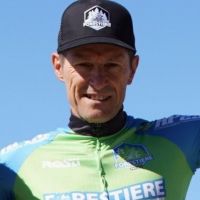 49-1

Rene Vallee
France
Epics Completed:
3
Best Results:
1° GM MedXtreme
1° GM AlpenTour Trophy
3° GM sur Croc Trophy
1° GM su Volcat UCi Mtb
1° GM sur Carpathian Epic Mtb
2° en m50 sur Andalucia bike race ,
2° en mixte sur la Breck epic ,
4° mixte sur la Bc bike race,
2° 100km Ultra Raid de la Meije
3° Transvercors 100km.

Absa Cape Epic History:
2022 - Individual Finisher (Grand Masters) Time: 2018 - Finisher (Grand Masters)
Cat Pos: 6. GC Pos: 109. Time: 33:25.42,42017 - Finisher (Mixed)
Cat Pos: 12. GC Pos: 158. Time: 37:56.12,02016

- Did not finish (Mixed)
49-2

Denis Liaud
France
Epics Completed:
none
Absa Cape Epic History:
2022

- Did not finish (Grand Masters)