2022 Overall Results - Masters
280-1

Garth Ennion
Individual Finisher
36:11.43,8 (18.81km/h)
280-2

Hannes Kotze
Out of race
2022 Stage Results - Masters
Prologue

13. Cat, 77. GC
01:13.42,8

+8.02,9
Garth and Hannes have not completed the Absa Cape Epic together. Garth and Hannes have completed none of the one Absa Cape Epics they entered together.
They have achieved the following results together:
2022

Team ESA Partner / Van Deijl (Masters), Did not finish race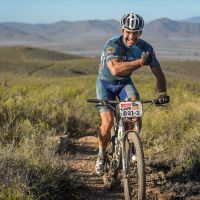 280-1

Garth Ennion
South Africa
Epics Completed:
2
Absa Cape Epic History:
2022 - Individual Finisher (Masters) Time: 2018 - Finisher (Men)
Cat Pos: 108. GC Pos: 180. Time: 35:50.56,1
280-2

Hannes Kotze
South Africa
Epics Completed:
none
I entered the Absa Cape Epic...

To push my body to a level I don't know.
Absa Cape Epic History:
2022

- Did not finish (Masters)