Clinton and Grant have completed both the Absa Cape Epics they entered together. 2022 will be the third Absa Cape Epic they ride together.
They have achieved the following results together:
2022

Team JACC Rabbit 3.0 (Masters), Riding
2018

Team Jack Rabbit 2.0 (Men), Cat Pos: 80., GC Pos: 124., Time: 34:01.52,9
2017

Team Jack Rabbit (Men), Cat Pos: 84., GC Pos: 152., Time: 37:42.39,4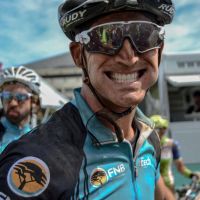 Clinton Haley
South Africa
Epics Completed:
3
I entered the Absa Cape Epic...

It's the worlds toughest MTB stage race. The challenge the Cape Epic provides has brought me back for a 4th time.
Best Results:

The 2017 ABSA Cape Epic was the highlight of my cycling and MTB career. Did it again in 2018, 2019, and now looking forward to completing it for a 4th time in 2020.
Absa Cape Epic History:
2019 - Finisher (Masters)
Cat Pos: 48. GC Pos: 187. Time: 37:56.07,22018 - Finisher (Men)
Cat Pos: 80. GC Pos: 124. Time: 34:01.52,92017 - Finisher (Men)
Cat Pos: 84. GC Pos: 152. Time: 37:42.39,4
Grant Hall
South Africa
Epics Completed:
3
Best Results:

Growing stronger over the years; meeting great people; seeing new places and challenging myself
Absa Cape Epic History:
2019 - Did not finish (Men) 2018 - Finisher (Men)
Cat Pos: 80. GC Pos: 124. Time: 34:01.52,92017 - Finisher (Men)
Cat Pos: 84. GC Pos: 152. Time: 37:42.39,42016 - Finisher (Men)
Cat Pos: 130. GC Pos: 263. Time: 44:34.52,7