2022 Overall Results - Masters
Time

40:14.44,3
Distance

681km
Avg. Speed

16.92km/h
Climbing

16900m
2022 Stage Results - Masters
Prologue

32. Cat, 131. GC
01:19.03,4

+13.23,5
Stage 1

26. Cat, 121. GC
05:57.30,1

+1:30.31,1
Stage 2

24. Cat, 113. GC
07:22.29,2

+1:29.12,7
Stage 3

37. Cat, 125. GC
05:29.17,4

+1:05.46,7
Stage 4

47. Cat, 152. GC
04:56.11,3

+1:11.49,9
Stage 5

45. Cat, 145. GC
05:51.15,6

+1:13.43,5
Stage 6

37. Cat, 129. GC
05:09.57,9

+1:21.48,3
Stage 7

38. Cat, 126. GC
04:08.58,6

+58.15,3
Clinton and Grant have completed all of the three Absa Cape Epics they entered together.
They have achieved the following results together:
2022

Team Jack Rabbit 3.0 (Masters), Cat Pos: 34., GC Pos: 115., Time: 40:14.44,3
2018

Team Jack Rabbit 2.0 (Men), Cat Pos: 80., GC Pos: 124., Time: 34:01.52,9
2017

Team Jack Rabbit (Men), Cat Pos: 84., GC Pos: 152., Time: 37:42.39,4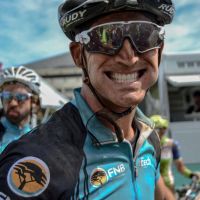 211-1

Clinton Haley
South Africa
Epics Completed:
4
I entered the Absa Cape Epic...

It's the worlds toughest MTB stage race. The challenge the Cape Epic provides has brought me back for a 4th time.
Best Results:

The 2017 ABSA Cape Epic was the highlight of my cycling and MTB career. Did it again in 2018, 2019, and now looking forward to completing it for a 4th time in 2022.
Absa Cape Epic History:
2022 - Finisher (Masters)
Cat Pos: 34. GC Pos: 115. Time: 40:14.44,32019 - Finisher (Masters)
Cat Pos: 48. GC Pos: 187. Time: 37:56.07,22018 - Finisher (Men)
Cat Pos: 80. GC Pos: 124. Time: 34:01.52,92017 - Finisher (Men)
Cat Pos: 84. GC Pos: 152. Time: 37:42.39,4
211-2

Grant Hall
South Africa
Epics Completed:
4
Best Results:

Growing stronger over the years; meeting great people; seeing new places and challenging myself
Absa Cape Epic History:
2022 - Finisher (Masters)
Cat Pos: 34. GC Pos: 115. Time: 40:14.44,32019 - Did not finish (Men) 2018 - Finisher (Men)
Cat Pos: 80. GC Pos: 124. Time: 34:01.52,92017 - Finisher (Men)
Cat Pos: 84. GC Pos: 152. Time: 37:42.39,42016 - Finisher (Men)
Cat Pos: 130. GC Pos: 263. Time: 44:34.52,7