2022 Overall Results - Men
Time

46:26.45,1
Distance

681km
Avg. Speed

14.66km/h
Climbing

16900m
2022 Stage Results - Men
Prologue

124. Cat, 262. GC
01:28.56,7

+30.50,0
Stage 1

111. Cat, 231. GC
06:53.42,9

+2:55.19,2
Stage 2

124. Cat, 279. GC
08:50.29,2

+3:33.24,4
Stage 3

104. Cat, 233. GC
06:17.30,3

+2:28.56,9
Stage 4

120. Cat, 268. GC
05:40.20,2

+2:20.58,2
Stage 5

104. Cat, 226. GC
06:30.13,3

+2:25.27,6
Stage 6

101. Cat, 219. GC
06:00.31,3

+2:44.26,4
Stage 7

100. Cat, 224. GC
04:45.00,4

+1:58.26,1
Elmar and Peter have completed the Absa Cape Epic they entered together.
They have achieved the following results together:
2022

Team Ergon Bike Ergonomics (Men), Cat Pos: 99., GC Pos: 214., Time: 46:26.45,1
279-1

Elmar Sprink
Germany
Epics Completed:
2
I entered the Absa Cape Epic...

It was on my list after my heart transplantation. I finished it 2017. This year I watched the Cape Epic online every day and I knew at the fist stage, I want to be back racing again.
Best Results:

My MTB highlight was my first MTB race, the Cape Epic 2017. In the same year I finished the MTB BIKE Transalp.
Absa Cape Epic History:
2022 - Finisher (Men)
Cat Pos: 99. GC Pos: 214. Time: 46:26.45,12017 - Finisher (Men)
Cat Pos: 171. GC Pos: 350. Time: 45:00.36,0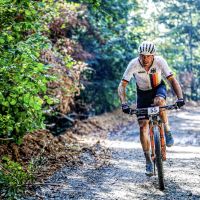 279-2

Peter Schermann
Germany
Epics Completed:
1
Absa Cape Epic History:
2022 - Finisher (Men)
Cat Pos: 99. GC Pos: 214. Time: 46:26.45,1