2022 will be the first Absa Cape Epic Elmar and Peter ride together.
They have achieved the following results together:
2022

Team Ergon Bike Ergonomics (Men), Riding
Elmar Sprink
Germany
Epics Completed:
1
I entered the Absa Cape Epic...

It was on my list after my heart transplantation. I finished it 2017. This year I watched the Cape Epic online every day and I knew at the fist stage, I want to be back racing again.
Best Results:

My MTB highlight was my first MTB race, the Cape Epic 2017. In the same year I finished the MTB BIKE Transalp.
Absa Cape Epic History:
2017 - Finisher (Men)
Cat Pos: 171. GC Pos: 350. Time: 45:00.36,0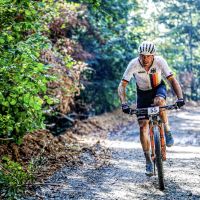 Peter Schermann
Germany
Epics Completed:
none
Absa Cape Epic History: