2022 Overall Results - Grand Masters
Time

50:49.40,2
Distance

681km
Avg. Speed

13.4km/h
Climbing

16900m
2022 Stage Results - Grand Masters
Prologue

88. Cat, 474. GC
01:45.21,5

+33.25,5
Stage 1

65. Cat, 377. GC
08:04.07,1

+3:13.19,1
Stage 2

57. Cat, 357. GC
09:34.43,2

+3:22.21,8
Stage 3

49. Cat, 329. GC
07:08.09,9

+2:31.18,3
Stage 4

36. Cat, 279. GC
05:43.24,8

+1:36.38,0
Stage 5

34. Cat, 273. GC
06:51.52,2

+1:56.26,2
Stage 6

34. Cat, 268. GC
06:29.30,4

+2:13.11,3
Stage 7

39. Cat, 280. GC
05:12.30,3

+1:42.59,3
Angus and Sean have completed the Absa Cape Epic they entered together.
They have achieved the following results together:
2022

Team OTT (Grand Masters), Cat Pos: 39., GC Pos: 282., Time: 50:49.40,2
145-1

Angus Taylor
South Africa
Epics Completed:
5
I entered the Absa Cape Epic...

I was provoked by Jules and got to love it and am now somewhat addicted to it.
Best Results:

The female's breasts that I stared at right before I crashed and broke my hand.
Absa Cape Epic History:
2022 - Finisher (Grand Masters)
Cat Pos: 39. GC Pos: 282. Time: 50:49.40,22015 - Finisher (Men)
Cat Pos: 195. GC Pos: 375. Time: 53:00.25,12014 - Finisher (Masters)
Cat Pos: 88. GC Pos: 306. Time: 48:33.17,12013 - Did not finish (Masters) 2011 - Finisher (Masters)
Cat Pos: 154. GC Pos: 492. Time: 58:23.58,02008 - Finisher (Men)
Cat Pos: 213. GC Pos: 330. Time: 64:31.09,82006

- Did not finish (Men)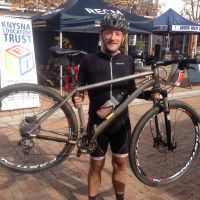 145-2

Sean O'Toole
South Africa
Epics Completed:
1
Absa Cape Epic History:
2022 - Finisher (Grand Masters)
Cat Pos: 39. GC Pos: 282. Time: 50:49.40,2