2022 Overall Results - Men
Time

28:26.54,2
Distance

681km
Avg. Speed

23.94km/h
Climbing

16900m
2022 Stage Results - Men
Prologue

9. Cat, 9. GC
01:01.24,8

+3.18,1
Stage 2

8. Cat, 8. GC
05:22.37,4

+5.32,6
Stage 3

5. Cat, 5. GC
03:54.10,7

+5.37,3
Stage 4

7. Cat, 7. GC
03:25.32,0

+6.10,0
Stage 5

4. Cat, 4. GC
04:08.10,9

+3.25,2
Stage 6

7. Cat, 7. GC
03:24.51,1

+8.46,2
Stage 7

12. Cat, 12. GC
03:01.29,8

+14.55,5
Urs and Simon have completed both the Absa Cape Epics they entered together.
They have achieved the following results together:
2022

Team Bulls (Men), Cat Pos: 5., GC Pos: 5., Time: 28:26.54,2
2021

Team BULLS (Men), Cat Pos: 8., GC Pos: 8., Time: 26:43.08,8
4-1

Urs Huber
Switzerland
Epics Completed:
11
I entered the Absa Cape Epic...

It's the biggest mountainbike race in the world and as a pro rider you would win this race at least once in your career.
Best Results:
- ABSA Cape Epic winner 2016
- 6 times winner and recordholder Grand Raid BCVS (2008, 2011, 2013, 2014, 2016, 2019)
- 5 times XCM Swiss Champion (2011, 2014, 2016, 2018, 2019)
- 5 x Crocodile Trophy winner (2009, 2010, 2015, 2016, 2018)
- Transalp winner 2011
- 3rd XCM World Championships 2008
- 3rd XCM European Championships 2008
Absa Cape Epic History:
2022 - Finisher (Men)
Cat Pos: 5. GC Pos: 5. Time: 28:26.54,22021 - Finisher (Men)
Cat Pos: 8. GC Pos: 8. Time: 26:43.08,8
Stage Wins: Stg 1. (1)2019 - Finisher (Men)
Cat Pos: 4. GC Pos: 4. Time: 26:35.53,42018 - Finisher (Men)
Cat Pos: 10. GC Pos: 10. Time: 26:29.18,62017 - Finisher (Men)
Cat Pos: 12. GC Pos: 12. Time: 28:06.53,42016 - Winner (Men)
Cat Pos: 1. GC Pos: 1. Time: 28:13.28,4
Stage Wins: Prlg. Stg 1. Stg 3. (3)2015 - Finisher (Men)
Cat Pos: 3. GC Pos: 3. Time: 31:35.23,02014 - Individual Finisher (Men) Time: 2013 - Finisher (Men)
Cat Pos: 2. GC Pos: 2. Time: 29:47.55,3
Stage Wins: Stg 2. Stg 3. (2)2012 - Finisher (Men)
Cat Pos: 11. GC Pos: 11. Time: 33:58.14,02011 - Did not finish (Men) 2009 - Finisher (Men)
Cat Pos: 9. GC Pos: 9. Time: 29:54.06,3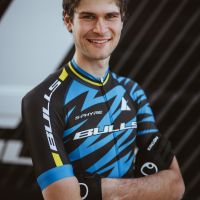 4-2

Simon Schneller
Germany
Epics Completed:
4
Absa Cape Epic History:
2022 - Finisher (Men)
Cat Pos: 5. GC Pos: 5. Time: 28:26.54,22021 - Finisher (Men)
Cat Pos: 8. GC Pos: 8. Time: 26:43.08,8
Stage Wins: Stg 1. (1)2019 - Finisher (Men)
Cat Pos: 20. GC Pos: 20. Time: 28:22.50,92018 - Finisher (Men)
Cat Pos: 14. GC Pos: 14. Time: 27:04.26,5