2022 Overall Results - Men
Time

28:14.07,0
Distance

681km
Avg. Speed

24.12km/h
Climbing

16900m
2022 Stage Results - Men
Prologue

8. Cat, 8. GC
01:00.53,5

+2.46,8
Stage 1

2. Cat, 2. GC
04:01.47,5

+3.23,8
Stage 2

3. Cat, 3. GC
05:17.06,7

+1,9
Stage 3

9. Cat, 9. GC
03:56.11,2

+7.37,8
Stage 4

4. Cat, 4. GC
03:21.58,4

+2.36,4
Stage 5

10. Cat, 10. GC
04:15.56,4

+11.10,7
Stage 6

4. Cat, 4. GC
03:21.07,1

+5.02,2
Stage 7

10. Cat, 10. GC
02:59.05,4

+12.31,1
Hans and José have completed both the Absa Cape Epics they entered together.
They have achieved the following results together:
2022

Team BUFF-MEGAMO (Men), Cat Pos: 4., GC Pos: 4., Time: 28:14.07,0
2021

Team Buff Scott MTB (Men), Cat Pos: 3., GC Pos: 3., Time: 25:32.02,3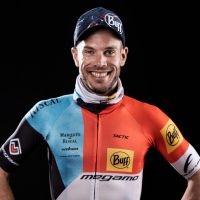 5-1

Hans Becking
Netherlands
Epics Completed:
4
I entered the Absa Cape Epic...

Because its the best race there is. High level.
Best Results:
2012 XCO Dutch National Champion
1st place Brasil Ride

Absa Cape Epic History:
2022 - Finisher (Men)
Cat Pos: 4. GC Pos: 4. Time: 28:14.07,02021 - Finisher (Men)
Cat Pos: 3. GC Pos: 3. Time: 25:32.02,3
Stage Wins: Stg 4. Stg 5. Stg 7. (3)2016 - Finisher (Men)
Cat Pos: 13. GC Pos: 13. Time: 29:44.05,52013 - Finisher (Men)
Cat Pos: 8. GC Pos: 8. Time: 31:22.03,7
5-2

José Dias
Portugal
Epics Completed:
2
Absa Cape Epic History:
2022 - Finisher (Men)
Cat Pos: 4. GC Pos: 4. Time: 28:14.07,02021 - Finisher (Men)
Cat Pos: 3. GC Pos: 3. Time: 25:32.02,3
Stage Wins: Stg 4. Stg 5. Stg 7. (3)